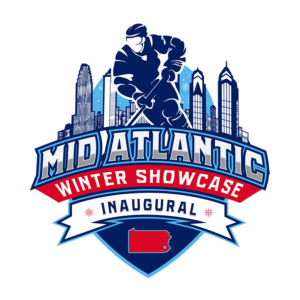 2022 Mid Atlantic Winter Showcase
DATES January 15-17, 2022
MLK Day Weekend
Tournament Fee: $1,495
——————————————————————————————
The Mid Atlantic Winter Showcase is a proud Mid Atlantic Showcase Series event. Please visit the Mid Atlantic Showcase Series Website @ midatlantichockey.com for additional tournament information (including rules). Please email matt@midatlantichockey.com or tyler@midatlantichockey.com with any further questions.
Mid Atlantic Winter Showcase Quick Facts
Four Game Guarantee
$1,495
18U AA, 18U A, 16U AA, 16U A, 15U AA
USA Hockey Sanctioned Event
Top Level National Competition
Full Games with Either 15 Minute Periods or 22.5 Minute Halves
Professional & Experienced Tournament Staff
About the Mid Atlantic Winter Showcase
The Mid Atlantic Winter Showcase is a USA Hockey sanctioned tournament and premier winter event that features four guaranteed games of top-notch Tier II Midget (18U, 16U, 15U) hockey. Hosted at Hatfield Ice World (Colmar, PA) and Oaks Center Ice. It is aimed to not only accommodate local teams but is scheduled for the MLK Day Weekend to pull-in other USA Hockey districts and/or states who are either gearing up for districts/nationals, or just looking for non-league, top-notch competition.
Showcase History and Background
When COVID-19 hampered the Mid-Atlantic region and unfortunately caused the cancellation of many USA Hockey sanctioned events, including our 6th Annual Mid Atlantic Summer Showcase in August of 2020, we searched for a means to not only provide alternate options to our 85+ teams registered, but to also help our rink partners recoup financial loss caused by the pandemic. Thus, the Mid Atlantic Winter Showcase was born. With the Inaugural Mid Atlantic Winter Showcase slated for MLK Day weekend 2021, we as a staff are excited to bring in our returning USA Hockey club members as well as new participants.
Mid Atlantic Winter Showcase Registration and Lodging
Please select the "Register Your Team" tab to register for the Mid Atlantic Winter Showcase. All hoteling and lodging accommodations are to be made through Travel Champs. We suggest reviewing the lodging options under the "Hotels" tab before completing your team registration.
Payment
A paid deposit is required to guarantee your spot in the Mid Atlantic Winter Showcase. All payments can be made via credit card or check. Please visit midatlantichockey.com/payment for the appropriate credit card payment links and mailing address for checks.
About the Mid Atlantic Showcase Series
The Mid Atlantic Showcase Series has roots dating back to 2004 with a preliminary four-team 16AA tournament. Over time, the Series has grown into three of the Mid Atlantic region's premier showcases held within Greater Philadelphia: The Mid Atlantic Summer, Winter, and Spring Showcases. Organized and directed by local current coaches and ex-players, the USA Hockey-Sanctioned Showcase Series prides itself on providing not only fun, competitive, and safe on ice play between its participating clubs; but also, professional and personal tournament operations.
The Mid Atlantic Showcase Series events continuously host the top teams from Ohio to Buffalo as well as teams ranging up and down the Mid-Atlantic and Northeastern corridors. Together, the Mid Atlantic Showcase Series has hosted 6 National Champions and over 50 National Qualifiers.
Disclaimer
The Mid Atlantic Showcase Series staff reserves the right to cancel any division that does not have a minimum of four teams. If a division is cancelled, a full refund will be issued.
© Mid Atlantic Hockey, LLC. All rights reserved.