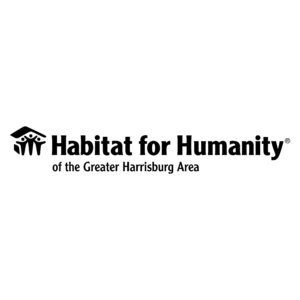 May 19, 2023 at the Dauphin Highlands
Benefiting Harrisburg Habitat for Humanity!!
Before registering your team or individual, explore your event below!
Habitat for Humanity of the Greater Harrisburg Area is a local affiliate Habitat for Humanity International. Habitat is an ecumenical housing ministry with the goal of eliminating poverty housing.   Harrisburg Habitat partners with local families in need to provide decent, affordable home ownership opportunities. The home buyers contribute hours of sweat equity into the building of their homes as well as take financial literacy courses. After the owner has completed the necessary steps, the home will be sold to the family with affordable monthly mortgage payments. Habitat for Humanity of the Greater Harrisburg Area also partners with homeowners to complete affordable interior and exterior home repairs and modifications that increase the safety, accessibility, condition and livability of the home. The Critical Home Repair program is designed to help keep low-income families in their existing home by making home repairs for which there is a need.  For more information on our programs, volunteer opportunities or to donate visit www.harrisburghabitat.org
If you mark your calendars to come and compete, you will be supporting Harrisburg Habitat for Humanity!!!
There are several ways and levels with which you can show your support for the community.
Registration will begin at 11:30 AM.  It will be a 1PM Shotgun start with all the fun to further support Harrisburg Habitat for Humanity  Events to be held while out on the course are Long Drive, Hole in One for a Car, and Closest to the Pin.  There will also be a 50/50 game as well as Mulligans available for purchase.  Prizes will be awarded for the winners of the contests, the top teams, winners of the silent auctions items, and other contests that we have for the event.  The meal will be BEFORE golf at 11:30 AM, and will include a silent auction with some great sports memorabilia.
PLAYERS WILL HAVE ACCESS TO THE DRIVING RANGE BEFORE THE EVENT!!!
Sponsorship Options: 
Payments may be made via credit card, PayPal, or via check.  Checks can be made payable to Habitat for Humanity of the Greater Harrisburg Area. Please remember to still register online if you are using the pay by check option.
**All payments made via CC or PP will be subject to a 3% processing fee**
ALL GOLF PACKAGES INCLUDE: GOLF, CART, LUNCH
Headliner Sponsorship  $1000.00
3 Mulligan and 3 50/50 Tickets
Golf for 4 package
Beer or Opening Act Sponsorship  $500.00
2 Mulligan and 2 50/50 Tickets
Golf for 2 package
Hole Sponsorship and Foursomes  $550.00
Signage at Hole
Golf for 4 package
Foursome $450.00
Golf for 4, Shared Carts, Lunch,
Single Player $125.00
    Golf for 1, Shared Cart, Lunch
Hole Sponsorship  $150.00
   Signage at Hole
Donations of $50, $100, $250, $500,$1000, and $2500
Donation to the cause
Custom Donations also available!!
Hotels
No hotels have been added yet, please check back later.
Special Instructions
Sponsorship Options: 
**All payments made via CC will be subject to a 3% processing fee**
ALL GOLF PACKAGES INCLUDE: GOLF, CART, LUNCH
Headliner Sponsorship  $1000.00
3 Mulligan and 3 50/50 Tickets
Golf for 4 package
Beer or Opening Act Sponsorship  $500.00
2 Mulligan and 2 50/50 Tickets
Golf for 2 package
Hole Sponsorship and Foursomes  $550.00
Signage at Hole
Golf for 4 package
Foursome $450.00
Golf for 4, Shared Carts, Lunch,
Single Player $125.00
    Golf for 1, Shared Cart, Lunch
Hole Sponsorship  $150.00
   Signage at Hole
Donations of $50, $100, $250, $500,$1000, and $2500
Donation to the cause