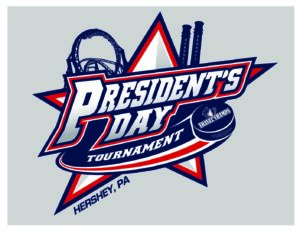 2020 Scranton Wilkes Barre President's Day AAA Tournament
February 15- February 17, 2020
Tournament Fee: $1895
—————————————————————————————
OPEN FOR ALL DIVISIONS (SQUIRT, PEEWEE, BANTAM, MIDGET) AT THE LEVELS OF AAA!!
Deposit required to guarantee spot payable by check or credit card:
Mites: $300
Squirts thru Midgets: $600
Registration fee must be "paid in full" 30 days prior to tournament.
Full Refunds will be issued if divisions not filled.
You will be notified by email / telephone and refunds will be issued in the same method as your payment.
Payment Methods
Deposits can be made directly on the website at registration or over the phone with MasterCard, Visa, or Discover Cards 
Remaining balances (Squirt-Midget) may be paid by check
Please make check payable and mail to:
Travel Champs
578 East Main Street
Hummelstown, PA 17036
800-464-4002
Kick off the holiday season in Scranton, Pennsylvania!
Enjoy our wonderful apparel available by purchase on site, or customization is available when pre-ordered!!!! To see what is available, click on our order form here!
Apparel Pre-Order –
**Any Ideas for area activities?**
Tournament Format:
USA Hockey sanctioned tournament. 
USA Hockey rules will govern all tournament play.
USA Hockey Zero Tolerance policy will be enforced at all games.
USA Hockey Official Team Registration/Roster Form (1-T), stamped & registrar signed, is required once your registration has been submitted.  Atlantic District teams are required to register and play in the same division and classification as depicted on your official USA Hockey roster.  Out of district teams that register below their designated division and classifications will be placed after careful review.  Submit to rosters@travelchamps.com – In the subject line of the email please include your Team Name and Division Registered for the tournament.  ADDED PLAYERS AND ROSTER CHANGES MUST BE TURNED IN 24 HOURS PRIOR TO PUCK DROP OF YOUR FIRST GAME.  ANY ROSTERS AND/OR CHANGES NOT SUBMITTED 24 HOURS PRIOR TO PUCK DROP FOR YOUR TEAM MAY RESULT IN TOURNAMENT DISQUALIFICATION FOR USING INELIGIBLE PLAYERS.
NOTE: This is a TIER I – Atlantic District USA Hockey sanctioned tournament for AAA divisions where applicable.
Players may only play if their name is on the Official stamped & registrar signed USA Hockey roster submitted.  All players for the tournament must be on ONE (1) USA Hockey roster!
It is necessary for players to sign the Official USA Hockey (T-1).  Players will be required to "sign in" one time at tournament.
Plan on playing your first game Friday at 10:00 AM.   We will try to have the teams that travel the furthest be scheduled accordingly to accommodate same day travel time.
4 game guarantee. 13 minute periods!!!
Zero Tolerance Policy when it comes to spectator behavior.  If any of your spectators engage in actions that result in their ejection from an arena, or the calling of law enforcement, the team may be subject to dismissal from the tournament.
Individual and Team awards for 1st and 2nd place.

A minimum of 4 teams is required in each division.
If at 3 weeks prior to the tournament there are not 4 teams, the tournament director will reach out to the coaches to discuss possible playing options.  Full refunds will be issued if division does not play.
Before registering your team, explore your hotel options below!
We suggest viewing our hotels and amenities under the Hotels tab below before you register.   You will then select your top 3 hotels choices from within the registration page.
Important reminder: each visiting team who registered is required to select a hotel from one of our hotel partners. Help us make the tournament an all around success!
Hotel prices may vary from tournament to tournament.  Nightly rates are displayed in the Hotel menu and the Registration tab under Hotel Preferences.
Important Information
Tournament Rules – AAA in PA Rules
Tournament Policies – Tournament Policies
Hotel Policies – Hotel Rules
FAQ – FAQ
General Info – General Tournament Information
Apparel Pre-Order –
Special Instructions
Tournament Rules -  AAA in PA Rules
Tournament Policies - Tournament Policies
Hotel Policies - Hotel Rules
FAQ - FAQ
General Info - General Tournament Information
Apparel Pre-Order - 

HOME/AWAY JERSEYS:  Please be prepared with both a dark and light jersey. The designated Home team on the schedule will wear white (or light) jersey, the designated Away team on the schedule will wear a dark jersey. If your team only has one jersey, please contact the manager/coach of the team you are playing to decide which color they should wear.

PENALTY BOX ATTENDANTS: Each team is required to have a coach/parent in their respective penalty box to assist with opening/closing of the penalty box door, name pronunciation.  Puck will not drop until an attendant is in each box. 

ON-SITE CHECK-IN:  There will be a registration table located at each rink.  Please make sure that all team managers visit the table prior to their first game of the tournament to receive their complimentary box of Hershey's chocolate.

ROSTER STICKERS: Please bring "roster stickers" for the scores sheets- enough for 4, 5, or 6 games depending on your division x 3 stickers per game. MITES are excluded.

COACHES/MANAGERS:  Coaches MUST sign the score sheet after the game & take a copy for your record. 

TOURNAMENT APPAREL:  Tournament apparel will be available for sale at each main rink registration table.  Limited sizes and quantities of performance shirts and hooded sweatshirts will be available. We highly encourage you to purchase early. Any team that pre-ordered apparel may pick up their order at the rink location of their 1st game on Friday.  Please have the team manager from the team pick up the order, as it will be bagged and labeled by team.  Before leaving the table, please check each for accuracy, as we cannot guarantee size replacements one you leave. 
 
PHOTOGRAPHY:  CARMO Photography will be taking pictures throughout the tournament. They will have tables set-up at Twin Ponds East and Klick Lewis Arena to view and purchase in-game photos on the spot. "TEAM" photo discs are also available for the tournament. Photos will also be available for purchase shortly after the tournament at http://carmophotography.com   
 
GAME TIMES:  Due to the tight tournament schedule, please make sure your team is ready to play 15 minutes prior to their scheduled game time.
 
HOTELS:  Be sure to keep your players supervised at all times while at the Hotels!  We had an incident at a recent tournament where the Police were called. Any hotel issues will result in tournament sanctions and possible dismissal. 

SCHEDULE & SCORES: The online schedule will be updated throughout the entire tournament as games finish. Please bookmark the schedule on your smart phone or computer for easy access. We will have printed brackets hanging at several rinks that will be updated throughout the weekend as well.
 
RINK ADDRESSES:  Rink Addresses are included below and are GPS friendly:
Revolution Ice Centre (REV): 12 Old Boston Road Pittston PA 18640
Toyota SportsPlex (TOY): 

 

38 Coal Street Wilkes-Barre PA 18702

 
Mohegan Sun Arena at Casey Plaze (MOH): 255 Highland Park Boulevard Wilkes-Barre Township PA 18702
On behalf of the staff and management of Travel Champs, we wish you all safe travels, and we look forward to seeing you!
 
Regards,
 
~The Team at Travel Champs